By Sara Peach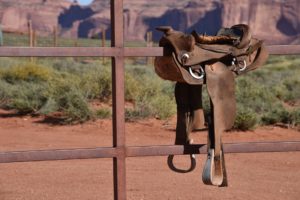 When Aaron Copland was first asked to write the music for the ballet "Billy the Kid," he felt wary.
Copland had been born in Brooklyn, the son of Jewish and Eastern European immigrants, and he'd studied composition in France. "I knew nothing about the Wild West," he would later write.
Despite his qualms, Copland managed to write almost cinematic music that evokes images of the prairie, old frontier towns, gun battles, and starry Western nights.
How did he do it?
With cowboy tunes.
Copland wove the folk songs of the West throughout his ballet. In some cases, he copied the tunes almost literally into the score. In other places, he fractured and distorted the melodies so much that they are hardly recognizable, much as Pablo Picasso used fragments of faces and bodies in his paintings.
In the examples below, you'll hear a recording of several of the cowboy tunes that Copland borrowed, followed by a recording that starts in the specific place where the ballet suite quotes those melodies.
Take a listen, and then come hear the Durham Medical Orchestra's live performance of "Billy the Kid" and other works on Sunday, December 10, 2017, at 3 p.m. in Baldwin Auditorium at Duke University.
"Great Grand-dad"
"Git Along, Little Dogies"
"The Old Chisholm Trail"
"The Streets Of Laredo"
"Goodbye, Old Paint"
"The Dying Cowboy"
Sources