By Sara Peach
If you come to the DMO's upcoming concert (and you should: December 10, 3 p.m., Baldwin Auditorium at Duke), you'll hear a new work that is a bit like a modern-day version of Sergei Prokofiev's "Peter and the Wolf."
It's called "The Orchestra Pit," by Duke composer Dayton Kinney, and it tells the story of a snake that wanders out of its snake pit and into an orchestra pit. There, the snake meets all of the instruments of the orchestra – and startles the musicians.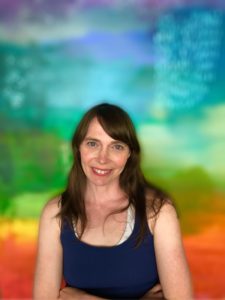 The new composition for full orchestra and narrator. It's based on a 2014 children's book of the same title by Oregon-based author and illustrator Johanna Wright. For the premiere of the new work the DMO has a treat planned: Wright will be in the house to serve as the narrator.
The DMO caught up with Wright by phone to talk about her own background in classical music, how that inspired her to write "The Orchestra Pit," and what it's like to hand your creative work over to a composer.
This interview has been edited and condensed.
Durham Medical Orchestra: How did you decide you wanted to create children's books?
Johanna Wright: I actually made a few kids books when I was pretty little. I was probably seven or eight when I first started stapling them together and putting stories together. I was probably 11 when I really decided that that was something that I want to pursue.
DMO: One thing I really love about your book is that it's similar to "Peter and the Wolf," in that the readers have a chance to meet each of the instruments in the orchestra. Was introducing children to the orchestra part of your motivation for creating it?
JW: It was! I grew up actually playing the violin. I played in a youth symphony in high school. And every spring or fall we would play "Peter and the Wolf" and have all the schools in the district come and listen. And I just loved it. They would do this cool thing with the orchestra where they would make these pathways through the orchestra, so the kids could come and watch the orchestra while we played. It was just a really memorable time for me and so I always loved that piece. And I was absolutely thinking of that when I made "The Orchestra Pit."
DMO: You've also said you had a flash of inspiration while you were at a live musical performance. Can you tell me a little bit more about that?
JW: I had really wanted to make an orchestra book for a long time. I just couldn't think of a good hook or something that would connect it in a way that was fun.
I was watching the Portland Cello Project. They are a group of musicians that play the cello, and they do different arrangements. Sometimes they'll play Nirvana covers, and sometimes they'll play classical. But I was at a performance of theirs, and it just clicked for me. I was working on another story about a snake, and it was just like peanut butter and jelly in that moment, when I was like, 'Wait, these guys can go together, where there's a snake that ends up in an orchestra pit.' And I thought that was really funny. It just was a fully formed idea and that was awesome. It doesn't always happen like that.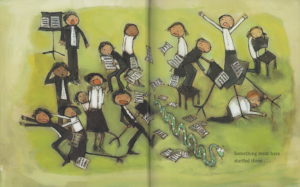 DMO: It's so interesting to me that your book was inspired by music in these different ways, and now it's being transformed back into music.
JW: I know! It is so exciting for me! I can't even. I can't even. It's so great.
DMO: What is it like for you to hand your creative work over to a composer?
JW: Oh my gosh, it's just thrilling.
The book process takes a really long time. I wrote the story way back in 2009, and it took many years before it actually hit the shelves. It was a long process there. I feel like if you have a creative project that is fresh, it can be trickier to let go of wanting it to be a certain way. I haven't thought about "The Orchestra Pit" in the more recent days, so this is just so exciting to see what happens.
DMO: And we're excited about it too. What do you hope that the audience might take from the performance of the Orchestra Pit?
JW: I hope they get the joy and the fun of music that I had, especially hearing something like "Peter and the Wolf." I like the idea of it just being kind of more fun and open and loose and exciting and inspiring people and kids to look further into the orchestra and music.
DMO: Orchestras have a reputation for being very serious and highbrow. The players wear formal clothing, and you're supposed to be very quiet and listen carefully, and to me, part of the humor of your book is looking at your paintings of very serious musicians kind of freaking out because there's a snake. I wonder if that was part of your intention to poke a little bit of fun at serious classical music.
JW: Yes, exactly! I think that's definitely just part of my personality. I love playing in orchestras so much, but I also feel like I'm a pretty goofy person. So I liked being able to bring those two elements together and hopefully have that resonate with kids and parents. Sometimes, I feel like people feel like they can't be a part of something like that if they aren't a certain way, and I like mixing it up a little bit, because of course you can be silly and fun and enjoy classical music as well.