The Durham Medical Orchestra (DMO), affiliated with the Office of the Vice Provost for the Arts of Duke University, was founded in 2010 by volunteer musicians with the mission to unite health-related professionals, Duke University, and the surrounding community through musical performance and collaboration to foster health, wellness, and the cultural enrichment of its audiences and members.
Inspired by two similar organizations -the Life Sciences Orchestra at the University of Michigan and the Longwood Symphony Orchestra in Boston- the DMO now has over 100 members:  health-related professionals, medical and graduate students of the life sciences, colleagues, and family members who share values of artistry, wellness, passion and community. Their music features major compositions from the classical literature as well as contemporary and newly commissioned works, under the baton of vibrant artistic director and conductor, Dr.Verena Mösenbichler-Bryant. Concerts frequently include collaborations with community organizations, visual artists, health leaders, local schools, churches, and professional musicians.
Artistic Director/Conductor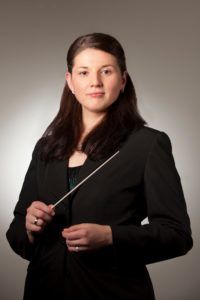 Verena Mösenbichler-Bryant, Duke University Associate Professor of the Practice of Music and Director of the Duke University Wind Symphony, serves as the conductor and artistic director of DMO. Mösenbichler-Bryant is an accomplished and excellent conductor, and her skills conducting the orchestra and choosing repertoire that is both challenging and appropriate have been instrumental to DMO's success and growth.